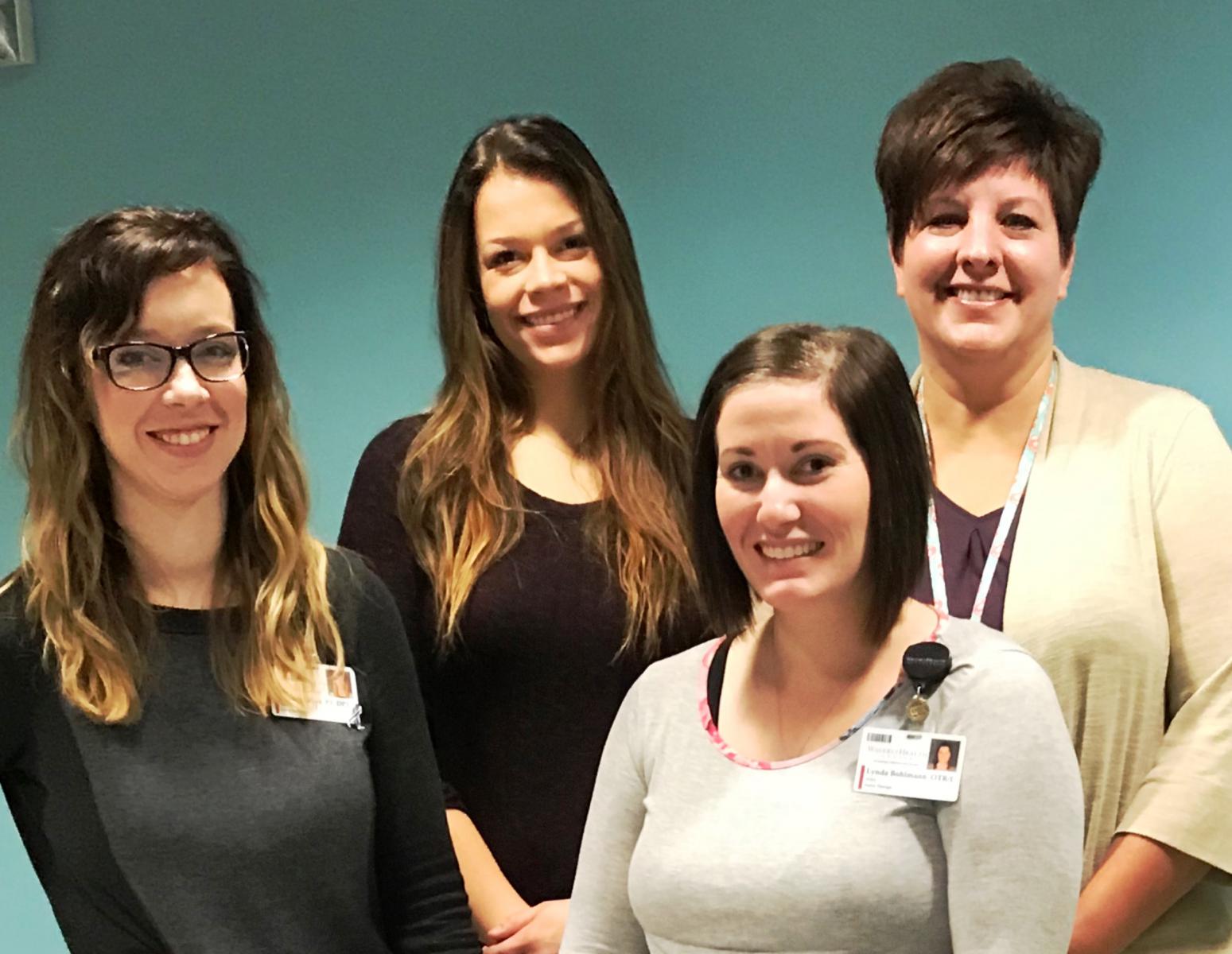 Pediatric Comprehensive Therapy Services
Our therapists are specially trained in the field of Pediatric Therapy. They incorporate play into therapy sessions within our Physical, Occupational and Speech Department. Our team approach and child-friendly environment help children reach age-appropriate and condition-appropriate goals. We want each child to reach their maximum potential.
Learn More About Our Pediatric Therapy Services
If you want to learn more about the pediatric therapy services offered at Taylor Physical Therapy, please fill out the form on this page. A member of our team will contact you soon.
---
Pediatric Speech-Language Therapy -
Nashua, Parkersburg, Sumner, and Waverly Clinics
Communication is a vital part of our lives. Pediatric Speech-Language Pathologist help children learn to successfully communicate their wants and needs in a fun learning environment to provide skills kids need to become confident in their ability to relate to the world. Our speech therapist treat a variety of diagnoses including: developmental delays, oral/facial anomalies, genetic disorders, neurological dysfunction, and specialized treatment for those with hearing loss and cochlear implants. As a Speech Therapist focused on kids' needs and learning styles, Kayla has worked with infants and children to improve:
Verbal Speech Skills - learning to properly say sounds to be more easily understood by others.
Language Comprehension and Expression
Feeding and Swallowing problems
Non Verbal Language and Social Skills
Attention, Memory, Abstract Reasoning, Awareness and Executive Functions
Voice/Resonance
Enhancing Fluency
Alternative Methods of Communication and Devices
Cochlear Implants and Auditory Rehabilitation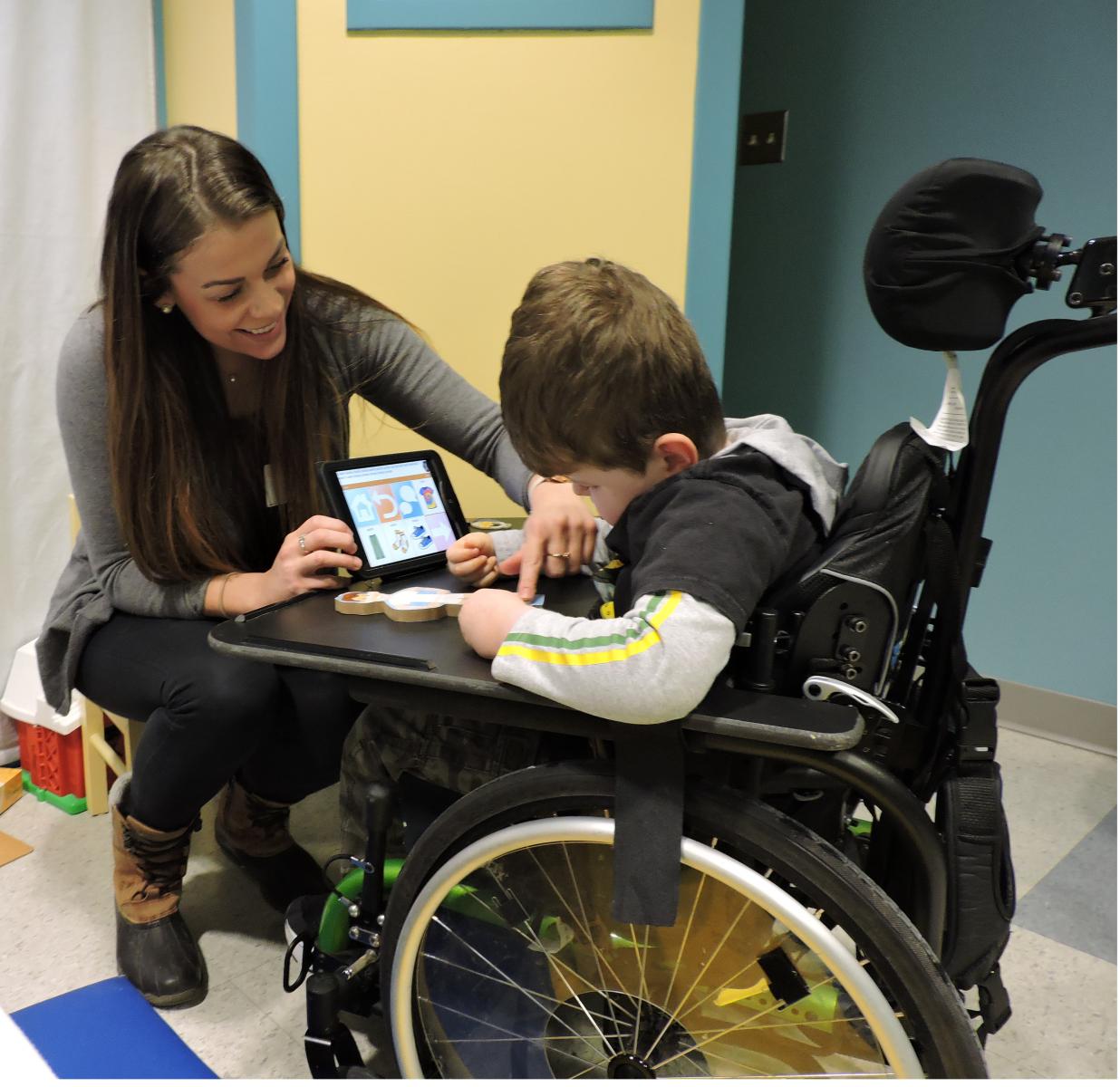 Pediatric Occupational Therapy -
Waverly Clinics
A child's occupation is to be a kid! Through the use of play, our Pediatric Occupational Therapists help children acquire the skills needed for the job of living life to the fullest. Our Pediatric Occupational Therapists focus on kids' motor skills used in daily activities and help make sense of the world around them. Areas the therapists help improve on but are not limited to: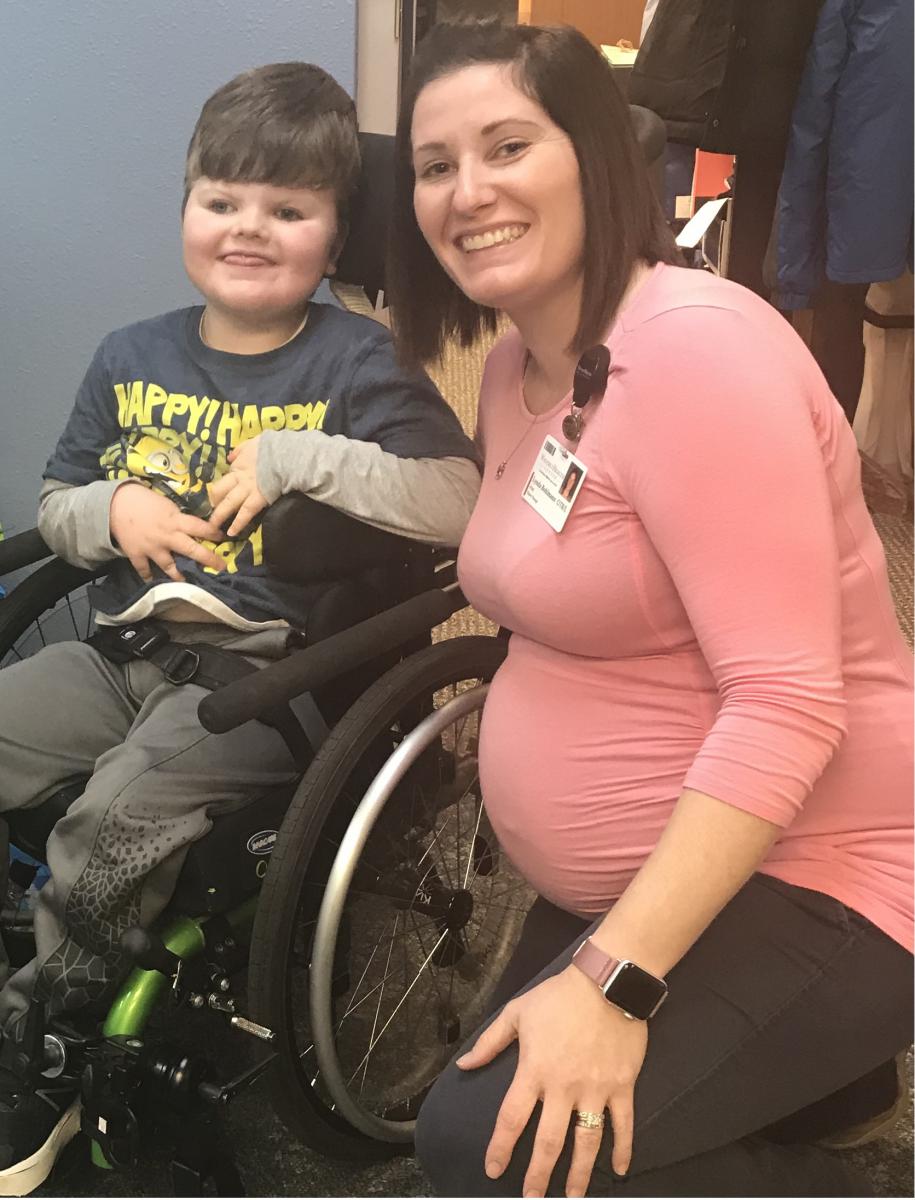 Increase independence in daily living skills such as feeding, dressing, and grooming.
Facilitating developmental play skills.
Advancing fine motor and eye/hand coordination skills.
Improving sensory processing skills such as organization, self-regulations and behavioral state.
Developing visual motor/visual perceptual skills including writing and coloring.
Attention to task/focusing skills.
Upper extremity strength and functioning.
Pediatric Physical Therapy -
Nashua, Sumner, and Waverly Clinics
It takes a different, specialized approach to help children who need physical therapy services. We have physical therapists who are trained to develop a treatment program for children and work with them in a fun environment. Our Pediatric Physical Therapists help children develop muscle strength and tone, and coordinate those muscles to sit, stand, balance, walk, and reach. We promote independence along with increasing participation, enhancing learning opportunities to ease challenges with daily activities. Our Pediatric Physical Therapist focus on helping children experience independent interaction with the world around them. Areas our therapists help improve but are not limited to:
Developmental Skills: Rolling, Sitting Up, Standing, and Walking.
Improving Balance, Coordination, and Motor Planning.
Rehabilitation of Orthopedic Injuries/Surgery.
Strengthening, Stretching, and Muscle Activation.
Involve and educate family/caregivers to improve outcomes.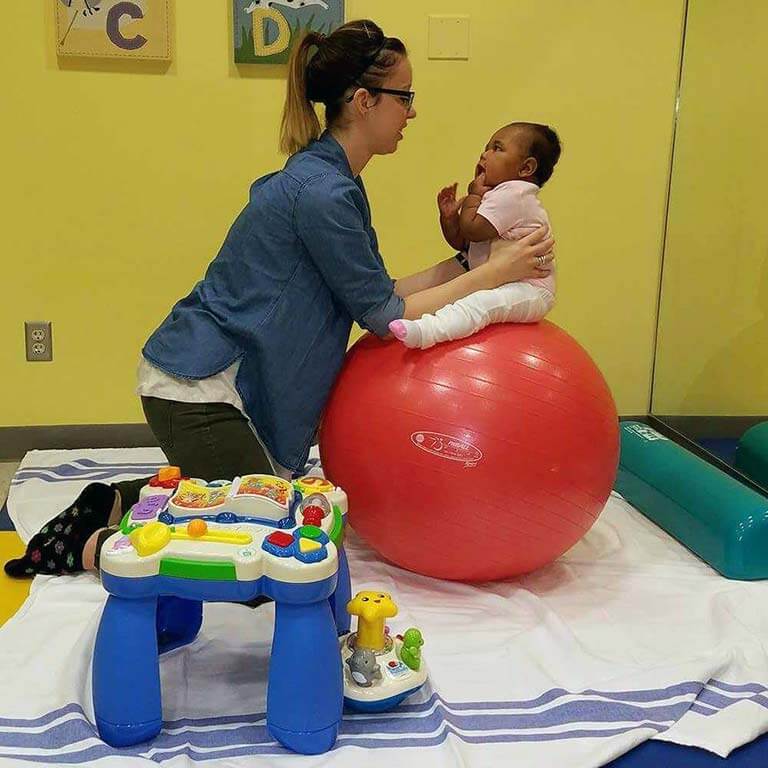 Animal Assisted Therapy
"Charm" is a service dog that acts as an extension of our pediatric therapy team. Animal Assisted Therapy can improve physical, social, emotional and cognitive function. Charm has a calming influence on patients who have cognitive impairments, but can also aid in helping improve gait and balance by serving as a moving walking aide.
Scoliosis -
Waverly Clinic
Scoliosis is a three-dimensional condition of the spine (backbone). The 3D deformity presents with a sideways curve, a twist, and a bend. These deformities cause the back to appear curved, like the letters "S or C", and twisted or arched. Scoliosis is most likely to occur when the spine is growing, in childhood or during the teenage years. A birth defect, disease, or injury can cause scoliosis, but in many cases, doctors do not know the cause. When a cause is unknown, it is termed "Idiopathic Scoliosis"
Treatment is different for each person. Mild scoliosis often does not need to be treated. But severe scoliosis can cause breathing and hear problems which require intervention. The Schroth Method is a physical therapy approach to scoliosis treatment focused on correcting posture and Taylor Physical Therapy has 1 of 2 PT's in Iowa that is certified in this method. It uses exercises customized for each patient to reduce the risk of curve progression and position the spine in a more corrected alignment. The goal of Schroth exercises is to de-rotate, elongate, and stabilize the spine in a three-dimensional plane. This is achieved through physical therapy that focuses on:
Restoring muscle symmetry and alignment of posture
Corrective breathing to de-rotate the spine
Creating internal muscle forces using specialized equipment to maintain a neutral posture
Re-wiring your brain (nervous system) to understand and keep "corrected" posture
Most patients will see visible improvement in the curvature of their spine as well as an enhanced physical appearance in proper posture after completing a Schroth program. The length of the program may very, but typically includes between 5 and 20 sessions. The length and frequency of treatment largely depend on the patient's tolerance and the extent of the scoliosis. A majority of the method is to be completed regularly at home, 15 to 30 minutes a day to help retrain the brain to understand "proper posture". Besides the visible corrections of the curve, outcomes of the Schroth program may include:
Improved posture
Improved core stability and strength
Easier breathing
Less pain
Improved overall movement patterns and function
Improved self-management and understanding of the spine
Better pelvic alignment
Improved quality of life
Parental Involvement
Each child's success is strongly dependent upon parental involvement. Therapy does not stop when the child leaves the clinic, but must be carried through to the home environment. Whether it's assisting in developing your child's mobility or helping them recover from a surgery or illness, you can trust the team at Taylor Physical Therapy to provide the proper level of care. Pediatric Therapists specialize in working with parents and caregivers to ensure home programs are in place to make each child's progress the best it can be.
Common Treatment Diagnoses
Auditory Processing Disorders
Autism Spectrum Disorders
Cancer/Leukemia
Cerebral Palsy
Cleft Palate
Congenital Heart Disease
Developmental Apraxia of Speech
Developmental Delay
Failure to Thrive
Feeding and Swallowing Disorders
Genetic Disorders/Birth Defects
Hemophilia
Language/Reading Disorders
Orthopedic Injuries or Surgery
Sensory Integration Disorders
Torticollis
Stuttering and Voice Disorders
Any condition that affects a child's growth and development