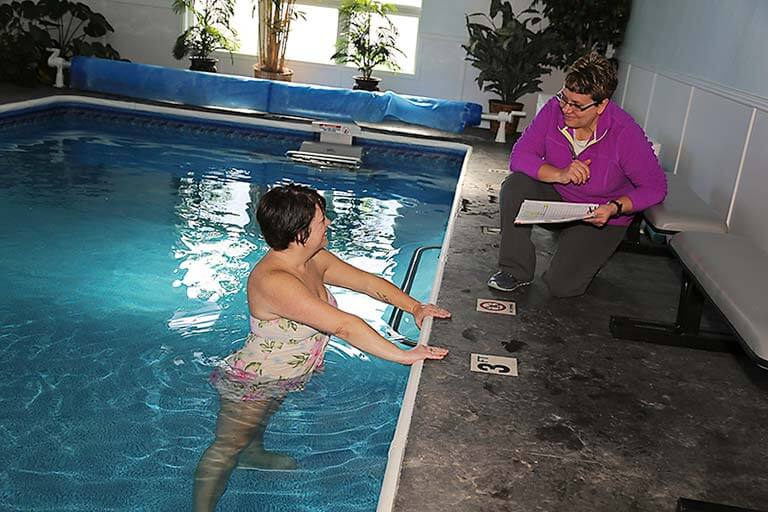 Unique Therapy Services
Taylor Physical Therapy has the trained staff to offer you specialty services that you won't find at many other physical therapy practices. Our goal is to be able to help as many patients as possible, so we provide a wide range of specialty services to make sure you can come to us for all of your therapy and rehabilitation needs.
Learn More About These Services
To learn more about the Specialty Services offered at Taylor Physical Therapy, contact us by filling out the form below.
---
Animal Assisted Therapy -
Waverly Clinics
There is a reason why dogs are considered man's best friend. "Charm" is a service dog that acts as an extension of our therapy team that can improve physical, social, emotional and cognitive function. Charm has a calming influence on patients who have cognitive impairments, but can also aid in helping improve a patient's gait by serving as a moving walking aide. Animal Assisted Therapy helps improve compliance and overall performance, and can be used in an outpatient or hospital setting.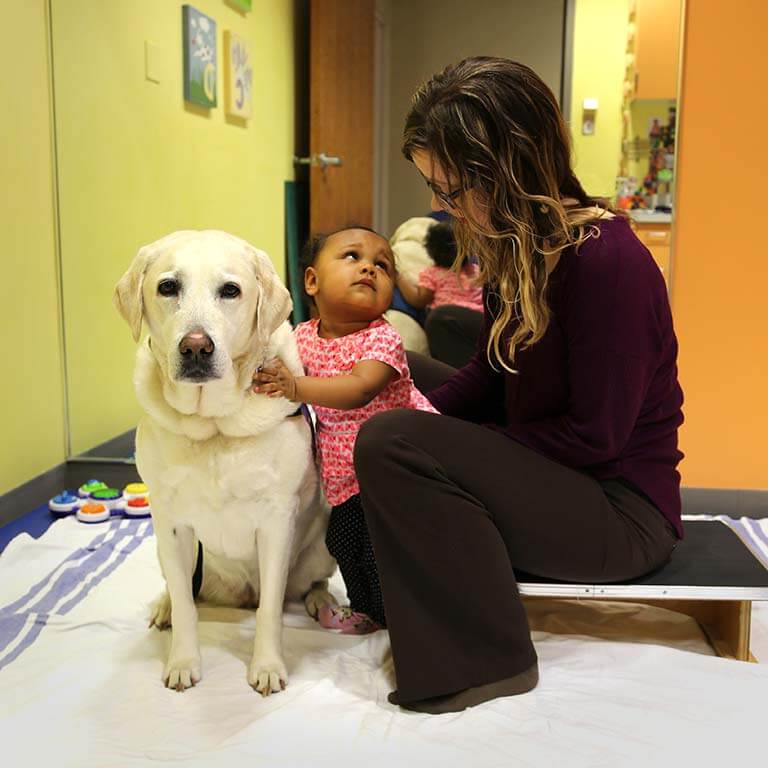 Aquatic Therapy -
Sumner and Waverly Clinics
Taylor Physical Therapy's locations at Waverly Health Center and Sumner offer a therapeutic pool that gives our patients the ability to exercise and recover from injury in an environment that puts less stress on their body. With a pool with depths between 3 and 5 feet warmed to 94 degrees, our aquatic therapy services can help patients recovering from a variety of conditions, including:
Post-surgical recovery
Chronic pain
Spinal cord injury
Back and neck pain
Joint pain
Pregnancy-related back pain
Stroke
Head injury
Chronic Pain -
Nashua, Parkersburg, Sumner, and Waverly Clinic
Your Physical Therapist will work with you to educate you on your chronic pain, finding solutions to improve your quality of life, and get you moving again! Not all chronic pain is the same. Your therapist will evaluate your clinical examination and test results and design an individualized treatment plan that fits you best.
Education to improve you knowledge and understanding of chronic pain
Teach you pain management strategies
Strengthening and flexibility improvement with exercise
Manual therapy to increase movement and range of motion
Posture awareness and instruction for ways to improve body mechanics
Dizziness & Vertigo Treatment -
Nashua, Parkersburg, Sumner, and Waverly Clinics
If you experience spells of dizziness or regularly deal with the feeling of the room spinning, you may have a form of vertigo called Benign Paroxysmal Positional Vertigo (BPPV).
This disorder can cause mobility issues, nausea and vomiting, but can also be treated relatively quickly. We have therapists trained in vestibular therapy that can eliminate the feeling of dizziness, many times in just a few visits.
Lymphatic Drainage -
Nashua and Waverly Clinic
Lymphedema is a disorder that leads to swelling in a localized region of the body due to a buildup of lymphatic fluid because lymph nodes and lymphatic vessels are missing or damaged. Taylor Physical therapy has a certified lymphatic therapist (CLT) on staff that is equipped to treat both primary and secondary lymphedema. We manage the symptoms of lymphedema in a variety of ways, including:
Manual lymphatic drainage
Compression bandaging
Exercise
Patient education
Skin care
Custom compression garment fitting
Oncology Rehabilitation -
Waverly Clinic
For patients who are living with cancer, Taylor Physical Therapy has a therapist who specializes in providing rehabilitation programs that will allow you to continue with your independence while currently undergoing treatment.
Trust our team to develop an oncology rehabilitation "Taylored" just for you which includes:
Recovering from surgery
Cancer-related fatigue
Radiation and Chemotherapy side effects
Post Treatment to regain independence
Scar Tissue Stiffness
Pressure or Pain at the incision
Decrease Swelling
Pain associated with cancer treatments
Weakness
Neurologic Rehab -
Nashua, Parkersburg, Sumner, and Waverly Clinics
Whether you're living with a neurological disorder like ALS, multiple sclerosis, Parkinson's disease or you've sustained a stroke, brain injury or spinal injury, we know that you want to regain your independence. Our team of physical and occupational therapists at Taylor Physical Therapy will develop a program that will allow you to make progress as you learn how to handle everyday activities while accommodating the disorder you live with through a combination of therapy and the use of adaptive equipment and prosthetic devices.
Stroke Support Group - Waverly Health Center
Meets Tuesdays (every other month): 11:00 a.m. to 12:30 p.m. in Tendrils Rooftop Garden
February 13; April 10; June 12; August 14; October 9 and December 11
Parkinson's Caregiver and Support Group - Waverly Health Center
Second Saturday of each month: 10 a.m. to Noon in Tendrils Rooftop Garden
Scoliosis -
Waverly Clinic
Scoliosis is a three-dimensional condition of the spine (backbone). The 3D deformity presents with a sideways curve, a twist, and a bend. These deformities cause the back to appear curved, like the letters "S or C", and twisted or arched. Scoliosis is most likely to occur when the spine is growing, in childhood or during the teenage years. A birth defect, disease, or injury can cause scoliosis, but in many cases, doctors do not know the cause. When a cause is unknown, it is termed "Idiopathic Scoliosis"
Treatment is different for each person. Mild scoliosis often does not need to be treated. But severe scoliosis can cause breathing and hear problems which require intervention. The Schroth Method is a physical therapy approach to scoliosis treatment focused on correcting posture and Taylor Physical Therapy has 1 of 2 PT's in Iowa that is certified in this method. It uses exercises customized for each patient to reduce the risk of curve progression and position the spine in a more corrected alignment. The goal of Schroth exercises is to de-rotate, elongate, and stabilize the spine in a three-dimensional plane. This is achieved through physical therapy that focuses on:
Restoring muscle symmetry and alignment of posture
Corrective breathing to de-rotate the spine
Creating internal muscle forces using specialized equipment to maintain a neutral posture
Re-wiring your brain (nervous system) to understand and keep "corrected" posture
Most patients will see visible improvement in the curvature of their spine as well as an enhanced physical appearance in proper posture after completing a Schroth program. The length of the program may very, but typically includes between 5 and 20 sessions. The length and frequency of treatment largely depend on the patient's tolerance and the extent of the scoliosis. A majority of the method is to be completed regularly at home, 15 to 30 minutes a day to help retrain the brain to understand "proper posture". Besides the visible corrections of the curve, outcomes of the Schroth program may include:
Improved posture
Improved core stability and strength
Easier breathing
Less pain
Improved overall movement patterns and function
Improved self-management and understanding of the spine
Better pelvic alignment
Improved quality of life
TMJ Treatment -
Parkersburg, Sumner and Waverly Clinics
Temporomandibular Joint (TMJ) Dysfunction causes pain that you experience throughout your skull, including jaw pain, neck tension, ear pain, headaches, toothaches, chewing difficulty and several others. Through manual therapy and strengthening exercises used in coordination with modalities like ultrasound, iontophoresis and cold therapy, our TMJ treatment can help reduce pain and swelling while improving movement and range of motion.
Wound Care -
Sumner and Waverly Clinics
There are a variety of factors — including age, disease and changes in your metabolism— that affect your body's ability to heal and recover from wounds. If you're experiencing chronic wounds, which are commonly caused by diminished blood flow or continuous skin pressure, Taylor Physical Therapy can provide wound care treatment services that include:
Wound measurement and documentation of wound characteristics
Measurement of edema and swelling
Wound cleaning
Managing wound drainage
Removing dead tissue
Wound dressing
Compression therapy
Nutritional support discussion
Gait analysis, including footwear and orthotic recommendations
Patient education
Women's Health -
Nashua, Parkersburg and Waverly Clinics
The women's health therapists have a goal to provide overall wellness to each patient. We treat any current conditions and develop a plan for the future by informing you of the latest techniques that can prevent dysfunctions that commonly affect women as they age. The women's health team can help with a variety of treatments, including:
Pregnancy fitness
Postpartum wellness
Osteoporosis prevention
Menopause treatment
SI dysfunction
Core stabilization
Stress incontinence
Constipation
Urge incontinence
Pelvic pain
Pelvic prolapse
Pain with intercourse