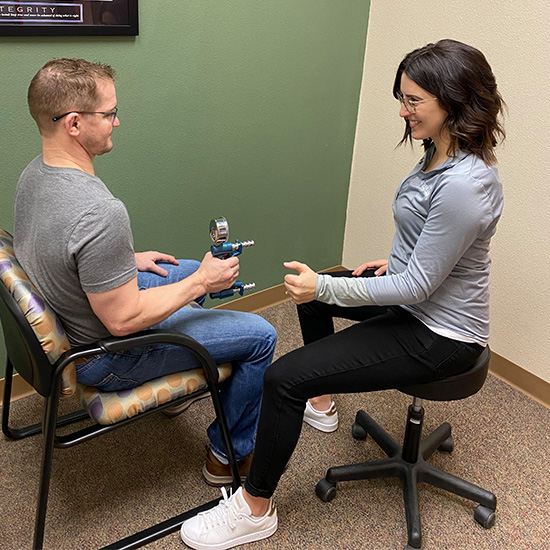 Occupational Health and Wellness
Taylor Physical Therapy's division of occupational health offers on-site and clinic based services that are designed to benefit both the employer and employee. The various programs offered are comprehensive and data driven to reduce injuries in the workplace, improve overall employee wellness, and enhance company culture related to employee safety and well being. Reduced cost of workman's compensation insurance and a decreased experience modification rate are just a start to employer benefits you may experience after implementing Taylor Therapy's occupational health and wellness programs.
Our goal is to ensure that your employees not only have a safe and healthy work environment, but also to create a new culture of injury prevention and company wellness!
---
On-Site Services
1. Comprehensive Industrial Performance Enhancement Program
The Industrial Performance Enhancement program is data driven to guide effective decision making, positive outcomes, and track progress over time. Multiple screening tools are utilized to analyze the workstation and its employees to produce an effective corrective exercise program that will counter repetitive movement patterns, improve body awareness, and reduce the risk of injury.
---
2. Early Intervention Clinic
Under the umbrella of evaluation and first aid as defined by the Department of Labor and OSHA, licensed physical therapists and certified athletic trainers are able to act as onsight providers. While doing so, they are able to evaluate reported aches, discomfort, and soreness before they develop into musculoskeletal injuries. After evaluation, the onsight provider is able to recommend changes in workstation ergonomics, implement stretching routines, or recommend reasonable accommodations. As a result, employee injury, pain, and work dissatisfaction is prevented while company costs are reduced. If a recordable injury has occurred, the onsight provider is able to recommend appropriate referrals and assist with timeliness of care.
---
3. Functional Movement Screen
This objective tool assesses movement patterns and observes mobility and stability deficits through the body. This screen provides a score, which helps determine if an individual is at risk for injury while completing physical activity. This information is utilized when designing a corrective exercise plan. Implementation of the corrective exercise plan scheduled and billed separately. The functional movement screen can be utilized in multiple ways. First, at workstation(s) that have a history of or may be currently experiencing frequent injuries. Secondly, it can be utilized as a screening tool to prevent injuries.
---
4. Job Demands Analysis (JDA)
Healthcare professional assesses the workstation by taking various measurements to identify the specific physical and environmental requirements of a job. This information is utilized to make educated decisions on workstation modifications to prevent injuries, reduce injuries if they frequently occur, and to implement corrective exercises.
---
Clinic Based Services
1. Workman's Compensation Rehabilitation
With five locations across eastern Iowa, Taylor Therapy is equipped to treat those injured on the job. Our skilled and passionate therapists take a team approach to their care, incorporating the patient, case manager, and referring provider to stimulate communication and promote the best possible outcomes for both the employee and employer.
---
2. Functional Capacity Evaluation (FCE)
Following an injury, and after meeting maximum medical improvement, a FCE evaluates an individual's capacity to perform essential job specific demands and essential duties. As healthcare professionals who are movement experts, a physical therapist is able to evaluate an individuals ability to perform work specific tasks related to the demands of their job. Our specialist will conduct a variety of tests designed to measure balance, level of fatigue, physical strength, and ability to complete multiple tasks including sitting or standing, walk, lift and carry, and perform fine and gross motor skills.
---
3. Work Hardening
Work hardening is designed for the individual who has met their physical or occupational therapy rehabilitation goals but are not yet able to return to work at their pre-injured capacity. The goal of this program is to address functional deficits or de-conditioning that remains due to work related injury. Tailored for the work demands and physical needs of the injured individual, this program is designed to be the final step in the return to work process and get the individual back to work!
---
4. Post-Offer Performance Test
Led by a healthcare professional, the employee completes tasks which simulate the degree of physical exertion needed to perform the demands of their specific job.
---
5. Job Demands Analysis With Post-Offer Performance Test
The gold standard for a Post-Offer Performance Test. Completing a job demands analysis prior to designing a Post-Offer Performance Test allows the greatest ability to replicate exactly what the employees physical demands will be during a work shift.
---
6. Post-Offer Performance Test with Baseline
Baseline measurements are completed for strength and range of motion at various joints (such as shoulders, hips, and knees). Baseline measurements are crucial if an injury is sustained, as they are used as a reference point to understand what the individual's pre-injury normal was. Thus, preventing drawn out injuries and the cost associated with continued medical care.
---
7. Fit-For-Duty Performance Test
Following an injury, prior to returning to work, a healthcare professional evaluates an employees ability to perform the demands related to their essential job functions. This evaluation determines if the individual has recovered from injury and is physically able to safely perform their job duties.
---
Partnership with Dr. Fields
Partnership with Dr. Fields and Summit Industrial Medicine
Taylor Physical Therapy and Dr. Fields, through Summit Industrial Medicine, collaborate to offer occupational health and wellness services in an effort to enhance the safety, quality, and overall wellness of businesses. Together, comprehensive and data driven programs are offered to support employees throughout their time with the company, from pre-employment to end of their career.